Sometimes, well often, I think I must be one of the luckiest people in the world!!  I get awesome companies sending me their amazing products to try out and provide a meaningful review for them and to expose my readers to the great array of products out there that they may not be aware of!!  Well…….this review is NO different!!  I was lucky enough to be sent two products from HappyTails Canine Spa Line, the Sleepytime Tonic and Joint Resolution.  It was as if the people at HappyTails knew me and my two babies, I mean dogs 😉 !!  Tanner is an extremely anxious and nervous dog and Logan suffers with joint issues in her back legs.
As I said Tanner is an extremely high strung dog (like 'mother' like dog?)  He is nervous and often anxious, especially during storms; he doesn't like storms (in this regard he is just like Jeanna!)  Therefore, receiving SleepyTime Tonic to review was PERFECT!!!  I don't know about where you live, but MN has already had its fair share of storms this spring/summer, so I was able to put this product to the test, you know me I love trying to prove products wrong!!  But alas I failed miserably as SleepyTime worked wonders on Mr. Tanner!!  In my house we watch the weather religiously and know ahead of time, provided the weather man knows, when storms are coming, so I was able to give Tanner a few drops of SleepyTime Tonic a little ahead of the storm and the effect it had on my little man was amazing!!  He was calm and mellow and just cuddled with me on the couch, without nervously jumping on and off the couch and running to his kennel and back, then nervously jumping on and off the couch, you see the usual pattern!!  Well it worked great and to see that he could calm down was remarkable!!  I love my dogs so much and try my best to make their lives comfortable and I really believe that SleepyTime Tonic is helping me do that!!
If you have dogs that are generally nervous dogs you can give them these drops daily and you'll notice the difference in your dog going forward!!  Also, it is great to use if you're going on a car trip or making that visit to the vet that your dog is not a fan of.  I think this saying; taken from HappyTails' website explains it perfectly, "From Wired to Tired in Under an Hour!"
Here is some more info about SleepyTime Tonic:
Put a couple of drops in water or directly in mouth
Will work in about 20 minutes to calm your anxious dog
Use consistently to help to rebalance him to be calmer
Perfect for travel, trips to the vet, fireworks or anxiety
Flower Essences and herbal based remedy that is safe and effective
Logan has bad knees 🙁 and had lost a bit of the natural spring in her step!!!  If you know miniature pinschers you'll know that these dogs are able to run and jump a LOT!!!  Well poor little Logan had stopped jumping and at times battled to jump onto the couch and bed, etc.  Of course this made me sad, I don't want my little girl in pain and as much as her and Tanner occasionally drove me crazy with their running and jumping and running and jumping……….I MISSED it when she wasn't doing it as much!!  This is why I said I think that the people over at HappyTails knew us when they sent us our products to review; we received Joint Resolution, perfect right?!  I agree!!  The website says it; "Improves joint health and comfort for dogs with arthritis & hip dysplasia" and while I am hopeful that Logan does not as yet have arthritis I was hopeful that Joint Resolution would provide her some relief and give her back at least a little bit of that missing 'spring.'
We've tried the Glucosamine-based products in the past so I was excited to see that Joint Resolution contained Bio Cell Collagen II, which according to veterinary journals etc. reduces pain and lameness in arthritic dogs** (please see the website for  Joint Resolution to read more about this, as I am no vet, nor do I claim to be).  In addition, Joint Resolution is all natural so I saw no harm in trying it out and boy am I glad I did!!  I could notice a difference in Logan's mobility after using for a short period of time and definitely plan on continuing using Joint Resolution, as well as maintaining Logan's weight at her target weight to avoid any excess burden on her joints.
The 'low down' on Joint Resolution;
Promotes healthy active joints

Helps improve joint mobility and flexibility

Promotes healthy strong connective tissue

Easy to administer

Liquid absorbs faster into the body than tablets or pills
** These statements have not been evaluated by the Food and Drug Administration. HappyTails products are not intended to diagnose, treat, cure, or prevent any disease.  
Besides for the extremely easy to use, 'shopper friendly' website for HappyTails, also make sure you check out their Facebook page and Twitter to make sure you're kept up to date with all the latest products and any sales/promotions they may have!!
The fantastic, dog loving folk over at HappyTails Canine Spa Line of products have been kind enough to sponsor a giveaway for my readers!!  One lucky reader will win both SleepyTime Tonic and Joint Resolution for the furry baby in their life!!  All you have to do is complete the easy rafflecopter entry form below.
Also Make sure you Check out the GRAND PRIZE giveaway and Linky with over 40 other participating blogs by clicking on the 'button' below, at the HappyTailsSpa Giveaway Event!!!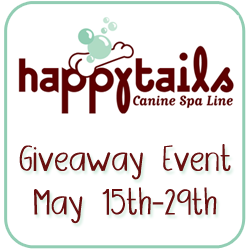 Good Luck ~ Here's to happy, healthy dogs!!
Disclaimer: Please note that the Happy Tails Spa Host and participating bloggers are not responsible for prizes that do not get shipped on time, get lost in the mail, or that are never claimed. We have represented the sponsor with the expectation that they will fulfill all of the prizes in a timely manner. While we are not responsible, we will make an effort to assist the winner in obtaining their prize.